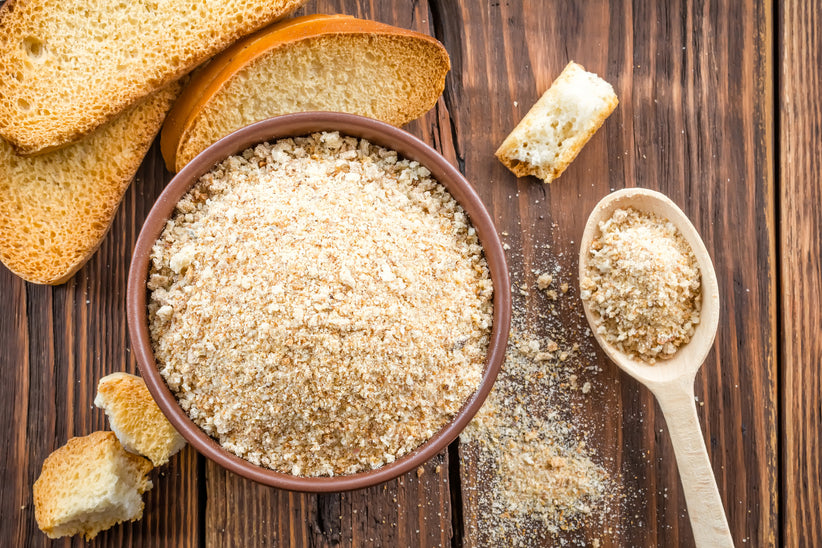 Make Your Own Breadcrumbs
Let's talk breadcrumbs. Have you ever looked at their ingredient list? We did and it was scary!
Enriched flour (Flour, Malted Barley Flour, Niacin, Ferrous Sulfate, Thiamin Mononitrate, Riboflavin Folic Acid), High Fructose Corn Syrup, Corn Syrup, Hydrogenated Vegetable Oil (Soybean, Cottonseed, Canola), Brown Sugar, Honey, Molasses, Sugar, Corn Meal, Dough Conditioners (Mono and Diglycerides, Sodium Stearoyl Lactylate, Calcium Stearoyl Lactylate, Soy Lecithin, Calcium Carbonate), Potassium Sorbate (Preservatives).
AND that list is not even HALF of the ingredients for some of the commercial brands! (Yes, that means others have MORE ingredients.) Aside from what looks like a ton of sugar, a lot of these ingredients seem pretty unnecessary.
Did you know that it is super simple to make your own? Not only is it cheap & simple but as you can tell it is much healthier. Here's what you will need to make your own:
• 5-6 stale pieces of (GOLO-approved) bread
• 1 tsp. dried parsley
• ¼ tsp. dried basil
• ¼ tsp. dried oregano
• ¼ tsp. garlic powder
• Sea salt and pepper to taste
1. Preheat your oven to 300 degrees.
2. Cut the stale bread into 1-inch pieces and place into your blender or food processor. Add the herbs, salt, and pepper. Process until the mixture is ground into fine crumbs.
3. Spread crumbs evenly on a baking sheet and bake until the crumbs start to brown (about 10 minutes)
And that is it! And keep in mind that the herbs used above are not mandatory- you can use any herbs you want! Thyme, rosemary, ginger, cayenne – you name it! Have you ever made your own breadcrumbs?
GOLO® is committed to providing you with the helpful tips and resources needed for personal success on a lifelong journey of health and wellness. It's time to become #YourBestYou.
Visit GOLO.com to access all the weight loss tools GOLO has to offer!
1-800-730-GOLO(4656)
support@golo.com
GOLO is not intended to diagnose, treat, prevent or cure any illness or disease. This blog provides general information and discussion about health and wellness related subjects. The words and other content provided in this blog, and in any linked materials, are not intended and should not be construed as medical advice. GOLO encourages you to consult a doctor before making any health changes, especially any changes related to a specific diagnosis or condition. All opinions and articles linked to and from this page are those of the individuals concerned and do not necessarily represent those of GOLO, LLC or its employees. No responsibility can be accepted for any action you take or refrain from taking as a result of viewing this page. GOLO will not be liable for any errors, losses, injuries, or damages from the display or use of this information. These terms and conditions are subject to change without notice.