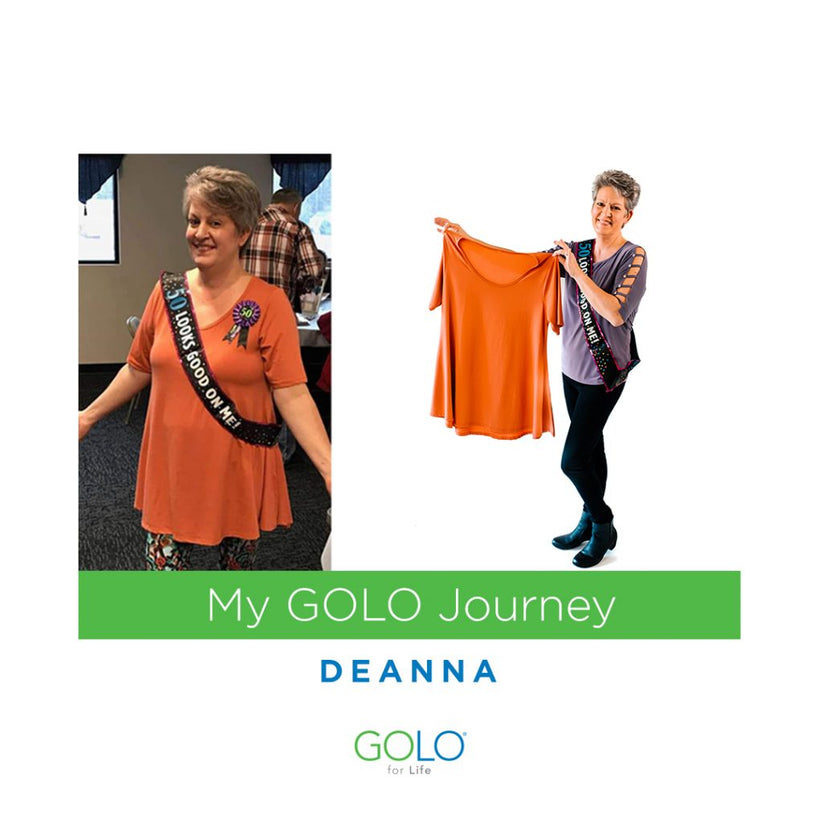 The Gift of Health
We feel loved and acknowledged when we receive a gift. But what about the precious gift we should be giving to ourselves—the one we take for granted when we are overweight? Our Health.
Deanna turned 50 on January 5, 2019. She had a fantastic party with family and friends, and she received all the gifts she wanted and even more—but she was shocked by the photos from her celebration. Behind her smile, she was hiding extra pounds underneath loose-fitting clothes. She suffered from aching arthritis in her knees and arms, too. The photos showed a clear message: "Do something about your health. NOW."
Before she finally decided to lose weight, she started researching programs but wasn't sure which one to follow. Honestly, she thought all products, diets, and pills were fake until she saw a commercial for GOLO. "I had a different feeling about this plan. Surprisingly, GOLO was more than a good decision. It changed my life."
The numbers show the success Deanna had with the program. She started GOLO in March of 2019 at 169 pounds. Following our weight loss recommendations, she dropped to 138 pounds by September 2019. Recently, she sent us an update after her 51st birthday this January, with a total of 8 inches off her waist. She went from a size 14 to a size 6.
"I am a whole new person. The approach that GOLO has is different from all that I ever tried before. They use the science of Release with a great meal plan, plus the holistic approach towards health. You have to be healthy inside to show it on the outside. I am happier, healthy, and more energetic. The frumpy clothes and arthritis? They are gone…gone!"
Do you want to stop hiding behind baggy old clothes? Do you want to be re-energized and pain-free? Give the most precious gift you can give to yourself: the gift of health with GOLO!
#myGOLOjourney #GOLOforlife
GOLO® is committed to providing you with the helpful tips and resources needed for personal success on a lifelong journey of health and wellness. It's time to become #YourBestYou.
Visit GOLO.com to access all the weight loss tools GOLO has to offer!
1-800-730-GOLO(4656) support@golo.com
GOLO is not intended to diagnose, treat, prevent or cure any illness or disease. This blog provides general information and discussion about health and wellness related subjects. The words and other content provided in this blog, and in any linked materials, are not intended and should not be construed as medical advice. GOLO encourages you to consult a doctor before making any health changes, especially any changes related to a specific diagnosis or condition. All opinions and articles linked to and from this page are those of the individuals concerned and do not necessarily represent those of GOLO, LLC or its employees. No responsibility can be accepted for any action you take or refrain from taking as a result of viewing this page. GOLO will not be liable for any errors, losses, injuries, or damages from the display or use of this information. These terms and conditions are subject to change without notice.