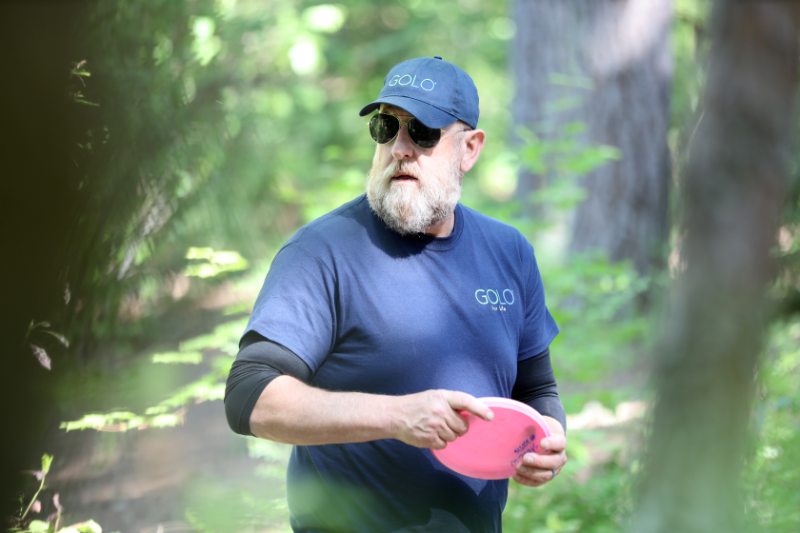 GOLO success story embraces disc golf as fun activity that keeps him moving
GOLO success story Steve Wyatt is a passionate disc golfer who competes in several tournaments throughout the year, including the Professional Golf Disc Association (PGDA) Tim Selinske US Masters event. Steve's interest in disc golf began as he searched for new ways to stay fit and active while on his path to achieving a healthier lifestyle. 
What is Disc Golf?
Disc golf is played much like traditional golf. Instead of a ball and clubs, though, players use a flying disc. The sport was formalized in the 1970s and shares with golf the object of completing each hole in the fewest strokes (or, in the case of disc golf, the fewest throws). Best of all, disc golf is designed to be enjoyed by people of all ages, genders, and economic backgrounds, making it a great lifetime fitness activity. 
Here's how Steve trains to compete in major disc golf events while staying in sync with the GOLO for Life® Plan:
Morning Routine:
  

5:30 am - Wake up, hydrate, and shower.

  

6:00 am - Breakfast featuring two eggs, one slice of whole grain bread, and avocado.
Alternative Breakfast: Overnight oats with berries.  
Lunchtime Routine:
 

Noon – Lunch is typically something filling and healthy, like smoked chicken with brown rice and broccoli.
 Afternoon Workout Routine:
 

2:00 pm – This is the time of day Steve focuses on strengthening his core with targeted exercises, including burpees, up-downs, planks, leg lifts, and rolling stomach crunches. He also makes sure to stay hydrated throughout. Alternative Workout: Practice rounds at the local disc golf course.
Evening Routine: 
 

6:00pm - Dinner is when Steve generally changes things up a bit and cooks healthy things he's craving. For instance, he recently made Rockfish, roasted potatoes, and asparagus. 

 

10:00pm – Off to bed. Getting a good night's rest helps him stay refreshed, focused, and ready for the next day.
 After successfully losing 138 lbs. with the GOLO plan, Steve became a paid GOLO contributor to help more broadly share his personal experience.
More about Steve's GOLO Story:
When Steve began his GOLO journey, he weighed 338 pounds. He had enjoyed a happy, active, and fit life before an unfortunate hiking accident limited his mobility for over a year and a half.
As the weight piled on, so did Steve's frustration of not being able to lose weight quickly enough through his limited exercise regimen. After researching all the weight loss solutions available, he chose GOLO and began working hard to achieve his goal of getting under 200 pounds.
During this time, Steve developed a passion for disc golf and incorporated it into his exercise regimen. Click HERE to read more about Steve. 
About GOLO
Headquartered in Newark, Delaware, GOLO and its brands empower individuals and communities by helping them take control of their health and wellness. Click HERE to learn more about our charitable giving initiatives.