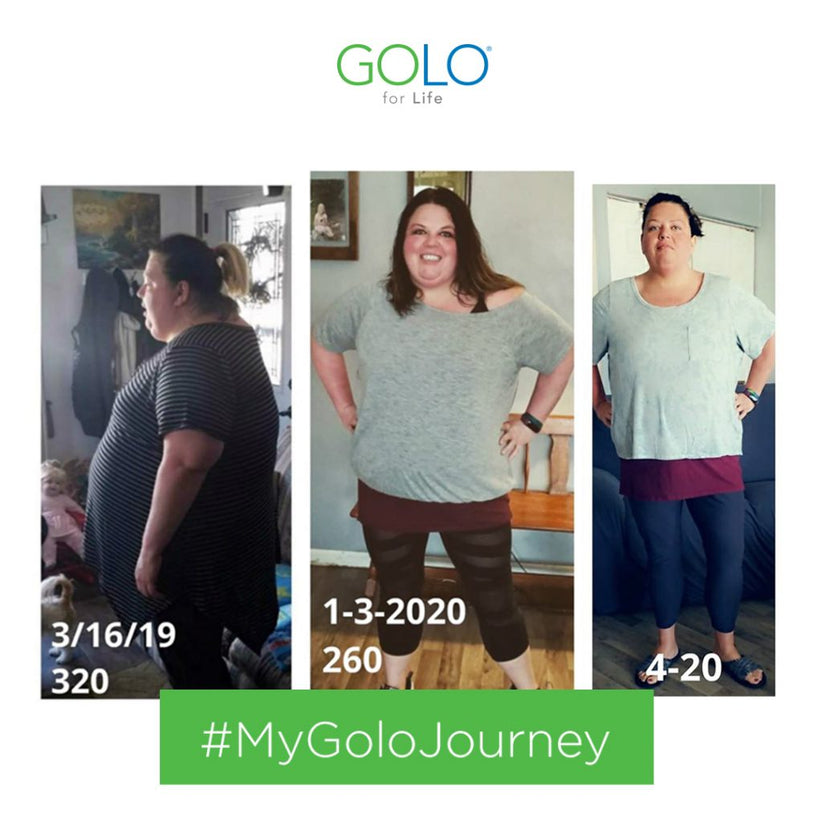 The Shrinking Woman
What can we say about Amber? She may be one of the most inspiring GOLO journeys we have ever witnessed.
In an effort to help others, she revealed the many struggles –– both physical and mental –– she experienced due to her weight. Throughout her journey[DL1] , her humble and consistent attitude has transformed her into a role model for anyone trying to lose weight and fight depression, all at the same time.
Last year, she wrote a lengthy blog post about how vulnerable she felt before losing weight with GOLO. Amber is a great example as to why Non-Scale Victories (NSV) are essential. We couldn't be prouder of her success, even though there is more work to do. She knows she can count on our program to make it happen.
"Even at the halfway mark, I am beyond proud of myself," she says. "And I couldn't have done it without GOLO and my entire online community."
Since beginning GOLO, her physical health has never been better. She is down 70 pounds! Her mental health and trust in herself is at an all-time high, too.
"I am so very thankful for the tools GOLO has given me," she says. "Plus, my family, friends, and neighbors have been very supportive! People see me and call me the "shrinking woman." I feel freaking amazing and beautiful for the first time in years."
"Now my journey is far from over –– this is just the beginning," she adds. "I still have a lot of mental health to work on, along with my weight, but I am so proud!"
If you are about to cross the halfway mark or you want to start losing weight for the first time, here are 3 tips you can learn from Amber's journey.
Little changes make a big difference.

Amber started little by little, making small changes along the way. She began by eating healthy, frozen food –– and now she enjoys and follows all homemade GOLO recipes! Today, results come faster, and the weight loss process is sustainable. In addition, she now enjoys an active lifestyle and can complete her Zumba classes!


Use GOLO's tools.

Amber suffered from depression, but she survived thanks to GOLO's emotional support. "This is the first time I have stuck to something despite having hard days," she says. "I have learned not to binge eat when I get depressed or to give in to cravings. I am so very thankful for the tools GOLO gave me."


Enjoy the little victories and stay motivated!

Are you halfway in your journey? It's time to celebrate! It doesn't matter if you have more weight to lose –– if you've lost weight, it's time to recognize yourself. Also, don't forget to stay motivated: Clean out your wardrobe, get new clothes, create a vision board with goals, and stay focused!

By: Maria Amado
#mygolojourney
GOLO® is committed to providing you with the helpful tips and resources needed for personal success on a lifelong journey of health and wellness. It's time to become #YourBestYou.
Visit GOLO.com to access all the weight loss tools GOLO has to offer!
1-800-730-GOLO(4656)
support@golo.com
GOLO is not intended to diagnose, treat, prevent or cure any illness or disease. This blog provides general information and discussion about health and wellness related subjects. The words and other content provided in this blog, and in any linked materials, are not intended and should not be construed as medical advice. GOLO encourages you to consult a doctor before making any health changes, especially any changes related to a specific diagnosis or condition. All opinions and articles linked to and from this page are those of the individuals concerned and do not necessarily represent those of GOLO, LLC or its employees. No responsibility can be accepted for any action you take or refrain from taking as a result of viewing this page. GOLO will not be liable for any errors, losses, injuries, or damages from the display or use of this information. These terms and conditions are subject to change without notice.