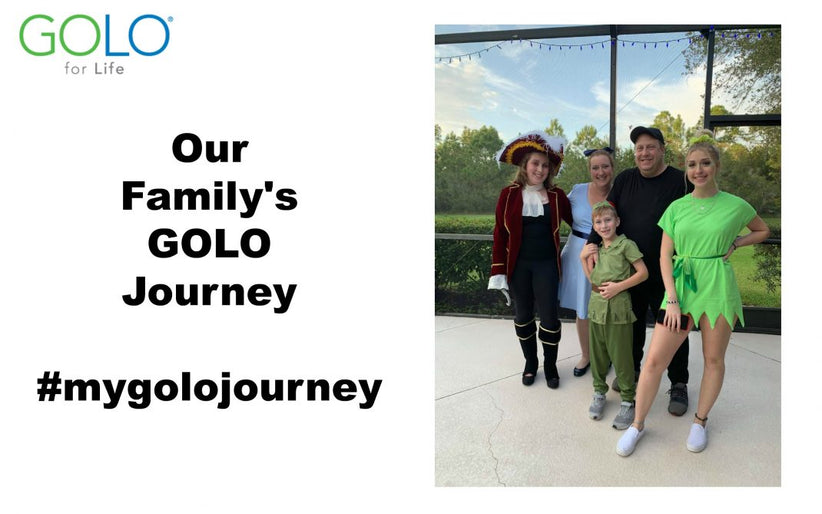 The Family That GOLOs Together, Loses Together (and Stays Together)
I want to start off by saying that I was asked to write this post because my family and I are in a unique position of doing this all together and are at the beginning stages of our journey to lose weight. The information that is provided is very personal and I was reluctant at first to disclose this aspect of our lives, however after discussing it with my husband, we feel that it is important for the reader to know this information to understand how really unique our situation is.
We are a family of 5, myself (the wife and mother), my husband, 19-year-old daughter, 15-year-old daughter and 8 ½ year old son (my son made me add the ½).  I am 8 months away from turning 50 years old and my husband is 52.  When I was younger, I learned that I had a parathyroid problem that led to many other autoimmune disorders.  At the end of college, I began putting on weight with no end in sight.  It only became worse when I had my children and I would go up and down in weight.  I won't bore you with all of the medical issues that I have, however I do now have Crohn's disease but all of the other issues are now in the background thank goodness.  My husband learned just after our first daughter was born that he has a liver problem.  As it turns out he has a genetic anomaly where he is missing a very important enzyme that metabolizes fat.  He has struggled with his weight since late 20's and again only has gotten worse.  About 6 months ago he struggled by gaining another 30 pounds very quickly and developed edema everywhere.  Having to wear compression socks was a turning point for him to make the decision to really do something.  My 19-year-old daughter has had a disorder called P.O.T.S. which causes her arteries to close when she changes positions.  She had to come out of school, and was sick more often than healthy.  She is now thankfully healthy but we just recently learned she has PCOS (polycystic ovary syndrome).  My younger daughter Eden has high anxiety and self-image issues although she is a healthy weight and has no major medical issues.  My son, is a strong baseball player but needs to have a healthy athletes' diet which is extremely difficult to do when he is an 8, excuse me 8 ½ year old boy who only wants chicken nuggets and chocolate ice-cream.  My son's dental problems have developed due to the high sugar content of his diet.   As you can see, we are a family filled with the need to become healthy.   But seriously with all of our problems how do you find one program that everyone can follow? Somehow, we did.   
Are you bored yet????  So sorry about all of the health-related issues, but I promise to get to the point.  I was watching television one night around Christmas and saw the ad about GOLO.  I immediately caught on when I saw that the process wasn't that difficult and that insulin resistance was a key point in their ad.    WE also needed something that would be easy for my daughter to adapt to since she is moving to Vancouver in February to start college.  She will be living in an apartment with a roommate and will no longer have her parents telling her what to do and what to eat.  After doing much research about treating PCOS for my daughter and giving the information about GOLO to the doctor, we decided as a family that we would try this program.  Losing weight and paying attention to the toxins going into our body could only truly help all of us. 
Fast forward a few weeks to January 13th.  We received our GOLO box in the mail around January 6th and sat down together to review all of the program details.  Eating 3 times a day, not too hard.  Protein, Carb, Veg and Fat at each meal, again not so hard.  Removing most of the processed foods in the house, a little more difficult due to the young ones, but let's be honest we kept a few just for them.  Removing dressings, seasonings that are processed, crackers, cookies has been a process over the course of the last 5 weeks.  Every time we want a dressing for a salad (and of course a family 5 all have different tastes for dressings) we make the real version and put in glass jars that can be kept in the fridge marked with the date.  I love those chalk stickers that go on everything.  Best invention.  If a seasoning is getting replaced, we bought the glass jars at Walmart and create new healthy seasoning mixes (of course the Golo ones).  My husband loved the McCormick's Cajun seasoning but it is full of gross things like cellulose.  So, we created a new one and keep it in our cabinet.  The kiddo's like Goldfish and Cheez-its and potato chips.  This all didn't happen overnight and we are still working on it, but the cracker and chip type snacks are getting replaced by Whole grain ones like from Annie's and potato chips are homemade in the air fryer.  Although this was an expense we weren't expecting, it is saving us the hassle of buying those things in the store and our kids are finding all different kinds of ways to "recreate" something they love in a healthier way.
The best way we came up with so that all of us would stick to this program, is to plan together.  Plan meals, plan grocery lists, plan when we were going to cook together, everything.  My son wasn't always present but he would give us some input here and there.  Every Saturday now for the past 4 weeks we have sat at our kitchen table going through the Golo recipes and picking things that sound good for breakfast, lunch, dinner and snacks.  We now have our own log for each meal, what it is and the protein, carb, veg and fat content listed on the meal log.  Everyone can look at it (it's in a graph form) and know what they need to eat. Easy, no measuring and everything is right there available in the fridge because it was prepared ahead of time.  On Saturday we would go to the grocery store and most of the time the kids are with us.   Financially speaking we are spending about 25-35% less on food each week and no waste since we are buying only what we need for each recipe.  It is fun to watch the kids get excited about new vegetables or fruits that they see.  They are paying attention to what's on the label and putting things back if there is any type of ingredient in there that we don't recognize. 
After we come back from the grocery store on Saturdays, we all put the groceries away.  Everyone has different activities and responsibilities between school and work.  So, it's not like we have all day to do this.  We have a very specific list and split up around the store to complete the shopping much faster.  Also, I just overhauled my pantry so now everything is organized, in the appropriate container and easy access.  If you are in a hurry and you have to open a container and cut something you are more likely to pick something not on the plan.  So, we also split up the proteins for each meal right after we get it.  We cut all the vegetables and let's be real, lots and lots of onions.  Every recipe pretty much has onions and I hate to cut them.  We look at the recipes that can be done ahead of time and frozen, or set up for the slow cooker and do all of that on Sunday.  The key to doing this as a family with many different likes and dislikes is that everyone is included in the planning, additional items are made and frozen just in case someone doesn't like something.  Snacks are laid out and put in containers in the appropriate serving sizes.  There is always something in the fridge or freezer in Tupperware containers in the right serving size so there are no more excuses.  We have 5 people doing this so there is always someone to help. 
One of the biggest obstacles I found in this program was having a family with so many likes and dislikes.  With my 8 ½ year old son, he doesn't' like anything that isn't a chicken nugget or something similar.  He hates sauces and refuses any vegetables.  We have tried smoothies in the past to attempt to get vegetables in him but nothing has really worked.  Now, he watches us and is trying more foods.  All white bread items have now been switched to whole grain.  Fruit purees mixed with yogurt are frozen for ice cream.  Small changes for him but having a much larger impact in his desire to add more variety into his diet.
I am not going to tell you that this process has been all roses.  Sometimes Marissa won't like something we have made or we didn't make enough of a certain item so we have to go off plan, but the serving sizes and understanding the combinations of foods that go into your body have helped when needing to make last minute decisions.  When exposed to not – on- plan foods it is sometimes hard to avoid eating those things.  However, there is no longer a desire to cheat.  If there has been a feeling of wanting something not-on-plan it has been fairly easy to find something as an alternative.  Everyone surprisingly has adjusted so well to this new life style and we are hoping to make it a permanent change. 
Although this article isn't an advertisement for GOLO products, it really feels like that.  But I can't really help that this program is working in so many ways.  Firstly, the weight loss is tremendous.   Secondly, changing our family in how we interact with each other.  Mood is better so less fighting.  Energy levels much higher so less stress and more activities together.  When in stressful situations, we seem to have the ability to remain calm and deal with it.  The meal planning is encouraging us to spend more time together with shopping, planning and cooking.  Last but not least, everyone in the house has gained a benefit which makes this a very unique situation.  Since most diets don't help every single person in a family with so many different types of issues.  Financially speaking it also is helping us budget out our food expenses which were astronomical a few weeks ago.  We have gone from about $400 a week for food including all of the extra take out and coffee runs.  We are now down to about $240 per week and that is even on the higher end.  Some healthier food items are more expensive but we are still saving money. 
Although all of these changes to our family have been positive and really rewarding the best part about this is that we are also seeing results on the scale and measuring tape. 
Results: 4 weeks on the program (since 1/13/20)
Me: Tamara
Weight Loss – 15 lbs.
Inches lost in waist – 3"
My husband: Edward
Weight Loss – 19.5 lbs.
Inches lost in waist – 5"
My 19-year-old daughter: Marissa
Weight Loss – 7.5 lbs.
Inches lost in waist – 3.5"
There have been many positive aspects to this program that we never paid attention to before in other diets. You just want to get the fat off your body, and don't pay attention anything else. Energy levels are through the roof, mood is 180-degree turn; from lack of any motivation and sad to happy and looking forward to each day. My stomach problems have pretty much disappeared. Having Crohn's disease, it is very difficult usually with any diet especially all of the vegetables. Certain foods would set me off and I would regress back to previous eating behavior and gain back a ton of weight. I have no idea why, but this program has allowed me to get my life back. I can eat cooked or raw vegetables and not get any tummy related problems including all of the pain. Just before we started this program I was about to head into surgery, but now at this point it is no longer needed on my stomach since I am managing with diet to completely alleviate the pain and discomfort. My husband's edema has disappeared, he has energy and is now spending his day at work standing and moving rather than sitting in a chair. My 19-year-old daughter is happy again and hasn't had any of her artery related issues in a while. My 15-year-old says that she feels in a better mood and has more energy than before. We are getting my son to eat more healthy food items and we now have the energy to chase him around the house. Our family life before GOLO was ok, but now our family is terrific. I hope that by reading this very long summary about our life it will help you realize that despite all of the challenges that everyone faces, this can be done and following the GOLO plan was the best decision we ever made. We plan to continue with this process and continue to strive to be healthier and happier. Can't wait to see what happens next. My husband and I need to lose about 100 pounds so check back with us in a bit to see if we can stick to this as a family.
#mygolojourney
GOLO® is committed to providing you with the helpful tips and resources needed for personal success on a lifelong journey of health and wellness. It's time to become #YourBestYou.
Visit GOLO.com to access all the weight loss tools GOLO has to offer!
1-800-730-GOLO(4656)
support@golo.com
GOLO is not intended to diagnose, treat, prevent or cure any illness or disease. This blog provides general information and discussion about health and wellness related subjects. The words and other content provided in this blog, and in any linked materials, are not intended and should not be construed as medical advice. GOLO encourages you to consult a doctor before making any health changes, especially any changes related to a specific diagnosis or condition. All opinions and articles linked to and from this page are those of the individuals concerned and do not necessarily represent those of GOLO, LLC or its employees. No responsibility can be accepted for any action you take or refrain from taking as a result of viewing this page. GOLO will not be liable for any errors, losses, injuries, or damages from the display or use of this information. These terms and conditions are subject to change without notice.