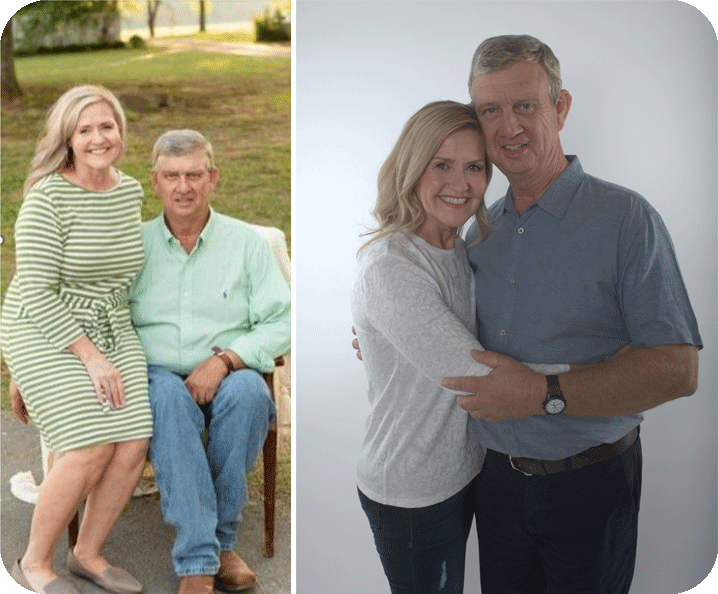 For these retired teachers, the decision to live a GOLO lifestyle has been a no-brainer.
After retiring from teaching for over 30 years, Jill and Barry were excited to enjoy tending to their farm, traveling, and being around their nine grandchildren. They were also able to care for Jill's mom when she moved in with them in 2021.
Ready for a change
While Jill took great pride in caring for her mom, she was not taking good care of herself.
"I was cooking big meals and eating them along with my mama and husband. Little by little the pounds snuck up on me. I weight 186 pounds, my clothes were tight, I was suffering from heartburn, and I felt like my belly was as big as it had been since I had my twins 28 years ago."
Jill's clothes were tight, her self-esteem was all but gone, and she was ready for a change.
One night, Jill saw an ad for GOLO on Facebook. After researching the program and reading the testimonials from real people, she decided to try it.
And because they always do everything together, Barry was on board too.
The GOLO difference
During her teaching career, Jill said she tried nearly every diet known to man.
"I'd have success, but none of those things were sustainable for my lifestyle. Slowly but surely, I'd gain back the weight and then more. But it's totally different with GOLO. GOLO was doable, it's realistic, it's something we can do for the rest of our lives."
And it wasn't just Jill who was experiencing the difference. Barry noticed it as well.
"After starting GOLO, I noticed I could go from one meal to another without eating. And after maybe a week or so, a lot of the things that I used to want to eat like sweets and breads in between meals, which was really one of my big problems, that went away. There's never been a time in my life where I didn't eat between meals until now."
Non-scale victories
After using GOLO, Jill also felt like her cravings went away. She felt like it was easy to prepare meals according to the Smart Card and wasn't just losing weight but experiencing lots of  other changes as well.
"I have so many non-scale victories! A flatter belly, over 20 inches total gone from my chest, waist, and hips, and no more bumpy skin. I wear size medium shirts and size 4 pants.
Confidence and a zest for life
Jill and Barry are a team through and through. It's no wonder they do GOLO together. And they couldn't be happier.
For Barry, he says there's a noticeable difference in his ability to work on his farm.
"Since I started losing weight, I've been able to do a lot of things that I struggled to do before. I have more energy, I can move more freely, and I can be more active."
As for Jill, it's all about those grandkids! 
"GOLO has given me the confidence to live my life. My self-esteem is better and I can get out in the yard and play with my nine grandkids, which I couldn't do before without feeling exhausted. Now, I have lots of energy and zest for life."
Jill and Barry are happy to continue living their GOLO lifestyle and don't mind sharing their success with anyone who asks.
"It's simple and it's easy to follow. I tell everybody it's a no-brainer. We love the GOLO way of eating and living and plan to never look back."