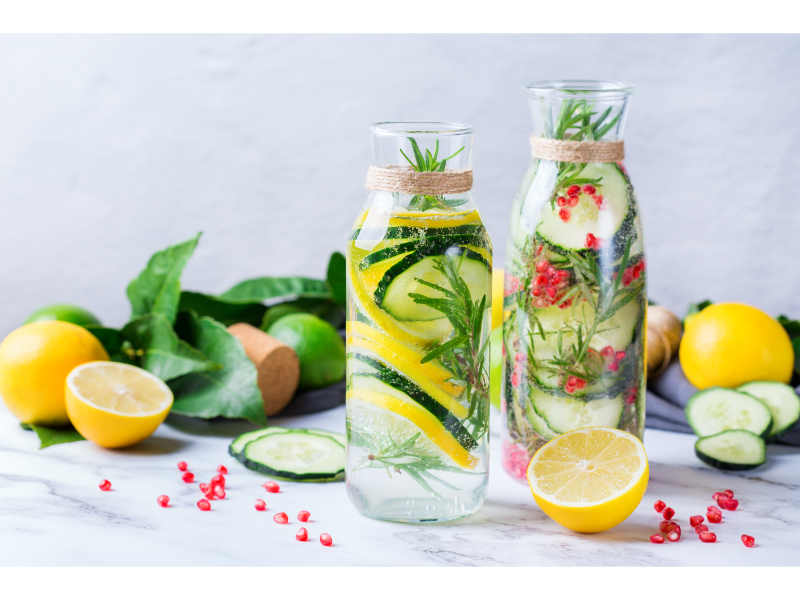 Health benefits of infused water (and how to make your own)
Making sure you drink enough water can have tremendous health benefits. Water aids digestion, helps you maintain a healthy metabolism, and can keep your body functioning properly.
However, staying hydrated can be difficult, especially if you're not a fan of plain water. This is why we recommend drinking infused water. By adding fruit, herbs, and even vegetables to your water, you can enhance its flavor and increase the likelihood that you drink enough throughout the day.
In this article, we dive into the health benefits of infused water and how to make your own.
What are the health benefits of infused water?
May help with weight loss:
Sugary drinks like soda, sports drinks, and energy drinks are the single largest source of calories and added sugar in the U.S. diet. Beyond weight gain, routinely drinking these sugary beverages can increase the likelihood of future health issues. 
If you're looking to cut back on sugary drinks but find water too plain, drinking infused water could provide you with the flavor you crave while cutting down on added sugar in your diet.
Can help with portion control and reduce cravings:
Starting your meal with a glass of infused water can help with portion control. Having water in your stomach helps you feel full, which means you may be less likely to overeat.
Drinking water with added flavor could also help satisfy hunger cravings between meals, especially if you want to eat something sweet.
Prevents dehydration:
Drinking infused water can help you stay hydrated. By adding sweet or aromatic flavors to your water that enhance its taste, you may increase your water consumption. And the more water you drink, the better your body functions. 
How to infuse water
Infusing water is a simple process. All you need is fresh produce, herbs or spices, and water!
Choose which fruit, vegetable, or herb to include. One ingredient will do, but combining more than one gives your infused water extra flavor.
Add ingredients to your carafe or pitcher.
Fill your carafe or pitcher with water. We recommend 4 cups of water for every ½ cup of produce, but you can make adjustments depending on how strong you want your flavor to be.
Use a muddler to mash the ingredients and release their flavors. Note, if you want more flavor but don't want floating bits in your water, try cutting your fruits or vegetables into slices.
Store your infused water in the fridge for about two hours.
Quick tip: For extra flavor, add fruit ice cubes!
Popular infused water combinations:
Apple + Cinnamon
Blackberries + Strawberries + Mint
Blueberries + Basil
Cucumber + Mint
Green Apple + Lemon + Cucumber + Mint
Lemon + Basil
Lemon + Cucumber + Mint + Ginger
Lemon + Lavender
Lemon + Lime + Orange
Lemon + Turmeric
Orange + Ginger
Pineapple + Kiwi + Mint
Pineapple + Mint
Raspberries + Mango
Raspberries + Rosemary
Strawberry or Watermelon + Lime + Mint
Sources: 
Harvard.edu: How much water should you drink
Visit GOLO.com to access all the weight loss tools GOLO has to offer!
1-800-730-GOLO(4656) support@golo.com
GOLO is not intended to diagnose, treat, prevent or cure any illness or disease. This blog provides general information and discussion about health and wellness related subjects. The words and other content provided in this blog, and in any linked materials, are not intended and should not be construed as medical advice. GOLO encourages you to consult a doctor before making any health changes, especially any changes related to a specific diagnosis or condition. All opinions and articles linked to and from this page are those of the individuals concerned and do not necessarily represent those of GOLO, LLC or its employees. No responsibility can be accepted for any action you take or refrain from taking as a result of viewing this page. GOLO will not be liable for any errors, losses, injuries, or damages from the display or use of this information. These terms and conditions are subject to change without notice.