Getting Creative with GOLO Foods
GOLO Foods provides unlimited ways to enjoy our food, get healthier, and save money.
How to flavor GOLO Foods:
We took special care in balancing our blends to keep any one flavor from dominating the others. We also made sure to keep the seasonings light to allow you to personalize your meal based on taste preferences or dietary needs.
You simply adjust the blend with these condiments or spices, or choose your own!
A pinch of salt
Pepper or other spices
Soy or Coconut Aminos
Sriracha
Salsa
Broth
Hot sauces
Olive oil (sparingly)
Great Meal Ideas with GOLO Foods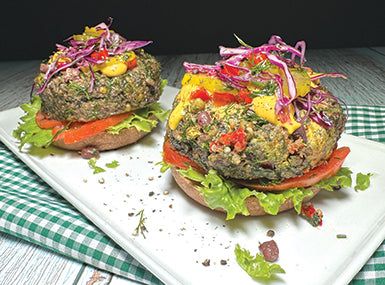 BURGERS
One individual container makes 2 hearty burgers!
Cook or grill up delicious burgers made with any variety of GOLO Foods. These burgers are packed with healthy protein, fiber and nutrients and a fraction of the saturated fat of a regular beef burger.

Pulse GOLO Foods blend in a food processor or mash in a bowl with a fork. Mix in 1 egg as a binding agent. Add your preferred seasonings, like salt, pepper, garlic powder, and onion powder.

Sauté or bake burgers until browned and cooked through. Top with your favorite vegetables or condiments. Enjoy on a bun or wrap in lettuce.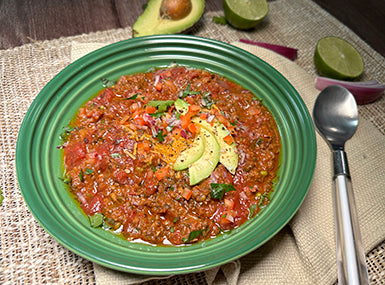 CHILI
Make a plant-based or meat chili quickly and easily!
Cozy up to a warm bowl of chili made with GOLO Foods. This hearty meal will fill you up without loading you down with saturated fat.

Sauté diced onions and red bell peppers, then add your choice of GOLO Foods blend and 1 small can of fire roasted crushed tomatoes. Add chili powder, cumin, smoked paprika, onion and garlic powder, pepper flakes, red wine vinegar, salt and pepper to taste, or use a pre-mixed chili seasoning mix to save even more time!

Top your chili anyway you like. You can add a small amount of cheese, diced tomatoes, avocado, cilantro, and lime.
LETTUCE WRAPS
Crisp and refreshing, lettuce wraps made with GOLO Foods will keep you satisfied and energized.
Enjoy as a healthy appetizer or complete meal - even better than what the restaurants serve!

Add your favorite GOLO Foods blend to Bibb lettuce cups or romaine lettuce. You can also top it with scallion, sliced sweet peppers, cashews, chili flakes, julienne carrots, bean sprouts or anything you like! The choices are endless!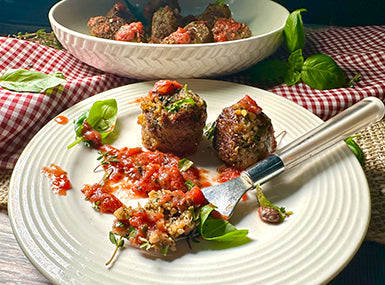 PLANT-BASED MEATBALLS
Use GOLO Foods Plant Based Blend.
Pulse any GOLO Foods blend in a food processor or mash in a bowl with a fork. You can use ground flax seed as a binding agent for a vegan option, or use 1 egg for a vegetarian option. Add fresh parsley, garlic, seasonings, and sautéed onion to the mix.

Scoop or roll mixture into small 'meatballs'. Quickly sear in a non-stick or cast-iron pan until browned and cooked through. You can also bake once seared.

Serve with a tomato sauce, fresh basil, and enjoy with zucchini noodles or whole wheat pasta, or along with a salad.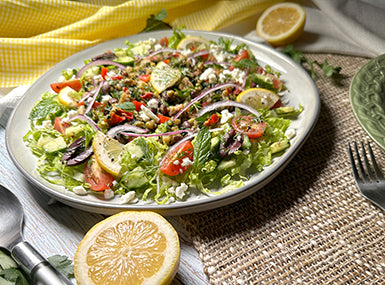 MEDITERRANEAN SALAD
Use any GOLO Foods Blend.
How do you make a Mediterranean salad even healthier? Add GOLO Foods to pump up the fiber and protein in your salad.

Toss some GOLO Foods Plant-Based Blend with salt and pepper, and freshly chopped dill, parsley, and mint. Add this to a bed of Romaine lettuce. Top with feta cheese, tomatoes, olives, red onion, roasted red peppers, lemon juice and a sprinkle of olive oil.

You can also add cooked shrimp or chicken for a heartier meal.
BREAKFAST (OR ANYTIME) WRAP
You can use any GOLO Foods Blend to make a nutrient packed breakfast in minutes.
Don't let a heavy breakfast slow you down. Start your day with a boost of energy with a nutrient-packed breakfast wrap made with GOLO Foods.

Mix in 1 scrambled egg to your choice of GOLO Foods. Wrap up the mixture in a whole wheat tortilla and add the toppings of your choice or what you have on-hand, like spinach, red bell pepper, bean sprouts, and hot sauce.

For a more Mexican-style wrap, you can add corn, cilantro, lime, avocado, and a small amount of Mexican cheeses.
Heating and Thawing Instructions
Thaw:
Refrigerator: Place container in refrigerator for 12 to 18 hours.
Microwave: Remove lid. Use defrost setting*.
Keep refrigerated and enjoy within 5 days of thawing.
Heat:
Stovetop (thawed): Heat in a nonstick skillet on medium, stirring occasionally, for 3 to 5 minutes or until it reaches an internal temperature of 165° F (oil optional).
Microwave (frozen): Remove lid. Heat on high for 2 minutes. Stir and heat for 1 minute more or until it reaches an internal temperature of 165° F*.
Microwave (thawed): Remove lid. Heat on high for 1 to 2 minutes or until it reaches an internal temperature of 165° F*.

*Times may vary based on wattage.
Good nutrition starts with a healthy foundation