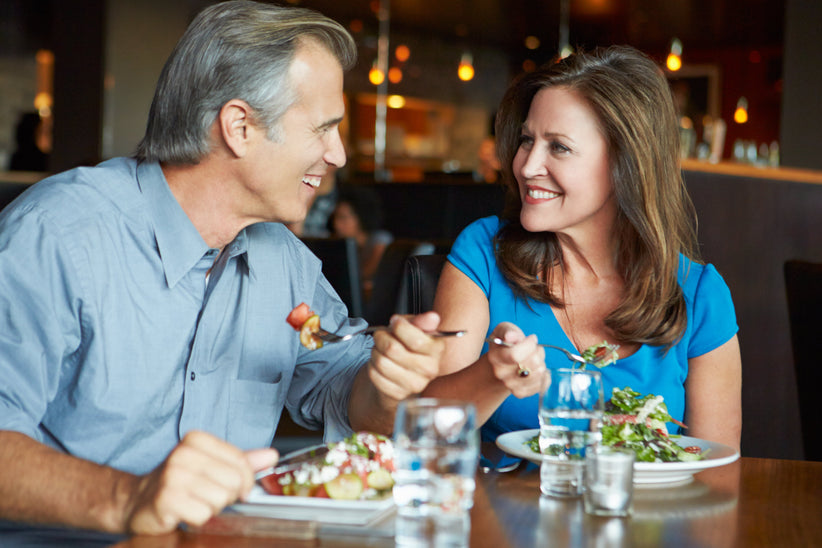 How to eat healthy at restaurants
Eating at restaurants is a great opportunity to enjoy a delicious meal with people you love. But when you're trying to lose weight and lead a healthy lifestyle, high-calorie menu options and large portions could make it difficult to stay on the right track.
Does that mean you should avoid dining out? Of course not! With a mindful approach, you can continue making good food choices that help you look and feel great without sacrificing an active social life.
Pick the right type of restaurant
Eating healthy at restaurants doesn't mean limiting yourself to places that only serve salads. But it's important to pick somewhere that offers a few different healthy options that you know you'll enjoy.
However, if you frequent a certain establishment with lots of unhealthy options that will be difficult to resist, broaden your horizons and try somewhere new. There's a good chance a restaurant you've never been to before will soon become an old favorite.
If you enjoy fine dining, keep in mind that upscale restaurants tend to offer much smaller portions than chain restaurants, allowing you to indulge in fancier meals at appropriate portions, which works out great when you are trying to eat healthier.
Read the menu before you go
If you're concerned about what you can eat at a specific restaurant, check out their menu before you go. Most restaurants have their menu online and may also list nutritional information.
Knowing what's on the menu could lessen your anxiety about what you can eat so you can focus on the atmosphere and who you're with. Plus, if you don't see anything you like, you can consider going to a different restaurant.
What to look for on the menu
When browsing your menu, look for foods that are:
Grilled
Broiled
Baked
Steamed
Roasted
Seared
These foods are most likely cooked with less fat. Menu items with tomato- or vegetable-based sauces are healthier options.
You want to avoid dishes that have been:
Fried or pan-fried
Breaded
'Stuffed'
Crispy
Scalloped
You also want to avoid menu items with heavier, creamy sauces. These options are more likely to be higher in fat and calories. Also, be mindful of unhealthy toppings like bacon or candied nuts. You can always ask for these ingredients on the side so you can control how much you use.
When you place your order, prioritize veggies, whole grains, and lean protein, just like you would when making healthy, balanced meals at home.
Another important tip is to be prepared to eat only a portion of the carbohydrate that is provided with the meal. Restaurants typically serve a much larger portion than should be consumed in one sitting.
If you think you'll miss out on flavor with these options, think again. You can also ask for more spices, salt, and pepper to liven up your dish.
Don't be afraid to ask questions
If you're unsure how something is prepared, don't hesitate to ask. That way you'll know for sure that what you're ordering is healthy, plus you may be able to get something grilled or steamed instead of fried.
Other important questions to ask your waitstaff:
What type of oil is the meal prepared with?
Can the food be prepared with less oil or cheese?
Is there another option besides bread or chips and salsa to serve with the meal?
Can you serve an appetizer portion of an entree?
Is there a vegetarian dish the chef can prepare that's not on the menu?
Can I get extra vegetables or a side salad?
You can also ask your server not to bring bread or chips out if you know it will tempt you.
Get your sauce or dressing on the side
If your meal does come with a creamy sauce or a salad dressing, ask for it on the side. If you're eating a salad, you can always dip your fork in your dressing before you dive into the lettuce and other veggies so nothing is overly-saturated in the dressing. 
Drink water during your meal
Drinking plenty of water throughout your meals helps in two ways. First, you may feel fuller, which helps to avoid overeating. Plus, drinking water instead of soda, sweetened iced teas, or alcohol will lessen your calorie intake.
If you don't want to drink plain water, you can ask for water with lemon, unsweetened iced tea, or flavored seltzer. 
Start with a broth-based soup or salad
Any time you can add more veggies to your meal is a good thing. A side salad is a great start, as are broth-based soups. These soups are likely to be full of lean meat or veggies, and the broth can be filling enough so that you don't overeat when your main dish is brought to the table.
You can also order a soup and salad as a meal so you know you'll be eating your fill of veggies and will also be filling. Plus, eating a nutritious option first thing means you're less likely to fill up on your entire entrée.
Have healthy portion sizes
Your GOLO for Life Smart Card™ and every GOLO recipe give you a proper serving size that should be enough to keep you full between meals. Restaurants, however, tend to give much larger portions than are necessary. But this is a good thing! Here's what you can do with your larger portion size:
Ask for a to-go container when your meal is served.
Share your portion with someone else.
Only order ½ porti

on of the menu item.
Having a to-go container brought out with your meal means you can divide your meal and save it for another time. Sharing with someone else cuts your portion in half and can save you money.
Quick tip: Order an appetizer (or two) instead of a main course. Not only does this option limit portion sizes, but you'll get more variety with your meal.
Practice mindful eating habits
One of the healthiest things you can do at a restaurant is to practice mindful eating. 
Eating mindfully means slowing down and being in the moment. A great way to eat mindfully is to put your fork down between bites and chew your food thoroughly. This slower pace allows your brain to adjust to how full your stomach is.
Pacing yourself also gives you more time to enjoy the company you're with, add to the conversation, and gauge your hunger level before you continue eating. 
Note, if you need help with portions, you can practice visualizing what your plate would look like at home and try to replicate the same amount of food when you eat out.
Make a healthy swap
When you order your food, make smart swap choices.
Choose grilled or baked entrees instead of fried.
Request another GOLO-friendly item to be paired with the meal if it comes with fries, chips, etc.
Ask for vegetables to be steamed without any added butter or oil.
Not all salads are created equal
Speaking of salads, not all of them are healthy! Salads with a variety of vegetables and an additional serving of protein are great. The ones with unhealthy ingredients like tortilla strips, cheese, bacon bits, and creamy dressings are the ones you want to avoid.
Ask if you can swap out an unhealthy topping with avocado or a hard-boiled egg. Remember, the more color, the better!
Don't go overly hungry
You don't want to spoil your meal by eating right before you head out to eat, but if you're eating balanced meals from your GOLO for Life Smart Card, you should avoid showing up to a restaurant feeling like you are starving. 
Make sure that you do not skip a meal because you are going out to eat. Eating all three meals will keep you from overeating when you go out.
Plan for a light activity after dinner
If you're able, take a short walk after your meal to allow yourself time to digest. Even if that means parking further away in the parking lot, a nice walk will help
Opt for coffee or tea after dinner
It may be tempting to get a dessert after your meal, but the sugar and calories would negate the healthy meal you just ate. Instead, opt for a cup of coffee or tea.
What to order at your favorite restaurants
No matter what type of food you love, a healthy option will likely be on the menu. Let's take a look at some favorite types of restaurants and what you can order that won't derail your weight loss journey. 
Eat healthy at Italian restaurants
Italian restaurants will more than likely have a few good salad options. Go with an oil and vinegar-based dressing!
Stick to entrees with red sauce, or pesto, and olive oil instead of an alfredo or cheese-based sauce. You can also ask for whole grain pasta and extra veggies on the side.
Italian dishes tend to be larger in portion size. If you get a larger serving, you should ask for a to-go container right away. You can also ask your waiter for or a 'lunch size' portion to cut down on the size of your meal.
Eat healthy at Mexican restaurants
Look for items on the menu that are grilled rather than fried. There should be plenty of lean protein options available like chicken, fish, and beans.
Black beans and pinto beans tend to be a healthier option than refried beans.
If you can, opt for lettuce wraps instead of tortillas for your tacos or try a taco salad.
Eat healthy at Asian restaurants
Look for meals with lean proteins and veggies. And opt for brown rice over white rice and steamed items instead of fried.
Asian food is sometimes served with unhealthy sauces or soy sauce. Ask for sauces on the side and then you can control how much you add.
Eat healthy at a Steakhouse
A steakhouse should have lots of veggie side dishes and lean protein on the menu. Where you run into trouble with these are condiments, sauces, and portion size. 
Something like a 6-ounce steak with a side of sweet potato, broccoli, or rice makes a healthy and balanced meal.
Eat healthy at your favorite pizzeria
A pizza place is another option that should have a few salad options. 
When you order your pizza, stick to one slice and ensure it has plenty of vegetables. Avoid toppings like ham, bacon, and sausage, and opt for a whole wheat or even cauliflower crust when possible.
GOLO is not intended to diagnose, treat, prevent or cure any illness or disease. This blog provides general information and discussion about health and wellness related subjects. The words and other content provided in this blog, and in any linked materials, are not intended and should not be construed as medical advice. GOLO encourages you to consult a doctor before making any health changes, especially any changes related to a specific diagnosis or condition. All opinions and articles linked to and from this page are those of the individuals concerned and do not necessarily represent those of GOLO, LLC or its employees. No responsibility can be accepted for any action you take or refrain from taking as a result of viewing this page. GOLO will not be liable for any errors, losses, injuries, or damages from the display or use of this information. These terms and conditions are subject to change without notice.